Jewellery Boxes
Jewelry boxes are a necessity when it comes to selling jewelry. The need for selling the jewelry in beautiful boxes is inevitable and also this way one can indirectly promote the brand. It is a complimentary piece for the customer, accentuating the rich sales and services you provide to the customers. Parshwa Padmavati Industries offers a wide range of jewellery boxes designed with 100% quality assurance and unique designs which can work as a treat to the eyes and as a guard to the jewelry.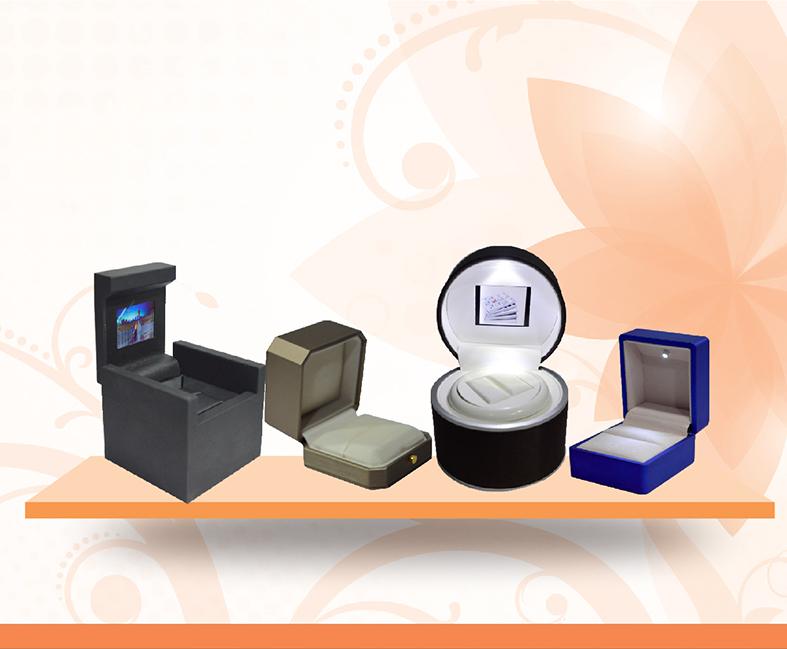 ---
---
Get a Quote
JEWELLERY BOXES
Selling jewelry is one thing but selling it in such a manner that it fulfills all the customer requirements is equally important. These jewelry boxes facilitate packing, handling and carrying of jewelry in a better way. Available in different styles and patterns depending upon the requirements, these boxes are specifically designed to take care of precious ornaments.
Parshwa Padmavati Industries is one of the leading Jewelry Box Manufacturers in India that specializes in making designer jewelry boxes and much more offering unique variety to match all the requirements. Bulk orders on wholesale rates are available for all the types of jewelry boxes we manufacture. We have NY Jewelry boxes, LED Jewelry Boxes, Plastic Jewelry Boxes, Exclusive Jewelry Boxes and LCD Jewelry Boxes. These boxes not only assist in keeping the jewelry safe and the shine long lasting but also add beauty to your presentation of the jewelry.
Each category of the boxes is specifically designed to serve a different purpose in distinct ways. For instance, let's say, one has the requirement for an affordable jewelry box, their requirement can be fulfilled by providing plastic jewelry box. Or say one needs to store the jewelry into a kind of box which is also a repertoire of memories. LCD jewelry box is the solution for them as it has LCD picture display. Likewise, all the jewelry boxes are designed with best quality material and innovative designs to meet different needs.