Jewellery Bags
Jewellery boxes require a lot of space, isn't it? If you also agree with this statement then you must be looking for an alternative as well. An alternative, which could keep your jewellery safe and life simpler. If yes, then you have landed on the right page. We have figured this out for you.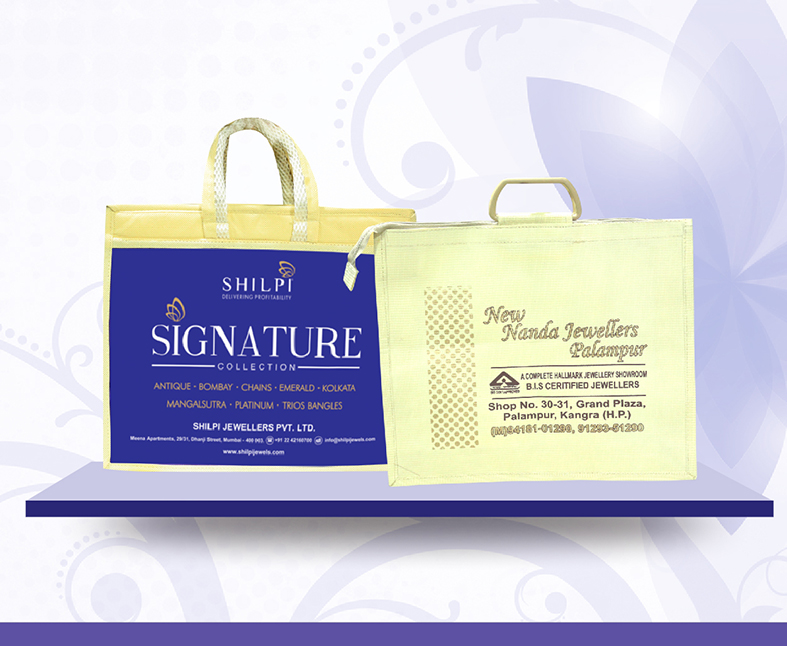 ---
---
Get a Quote
Jewellery Bags
We are one of the leading manufacturers dealing in various kinds of jewelry boxes as well as state of the art alternatives to the boxes, the Jewelry Bags. We are Jewelry Bags Manufacturers in India that specializes in making beautiful Jewelry bags and much more offering unique variety to match all the requirements. You can place orders on large scales and we will deal with wholesale rates with you. We have different bags for your different needs. The variety of jewelry bags we manufacture includes IIJS exhibition jewelry bags, jute bags, and non-woven bags.
The IIJS exhibition jewelry bags are exclusively designed for the India international jewelry show exhibition. Jute bags are made out of fine quality jute and the nonwoven bags are manufactured using the nonwoven raw material. We don't compromise with the quality of raw material used to make these bags. Hence there is a quality assurance with the final products as well. These bags can be essentially used to keep different types of jewelry and are great for jewelry packaging and storage. The bags can be designed in various shapes, sizes, colors, and patterns as per your specifications. With the name of your business printed on the bags, it is one of the best ways to make a lasting impression of your business on the consumers. These bags facilitate multiple uses like can be used as bags for jewelry, shopping bags, paper bags, promotional bags, as handbags etc. these are multipurpose, reusable little wonders which are very essential.